September 25, 2021
From LPOD
Moon Birth
Originally published November 26, 2011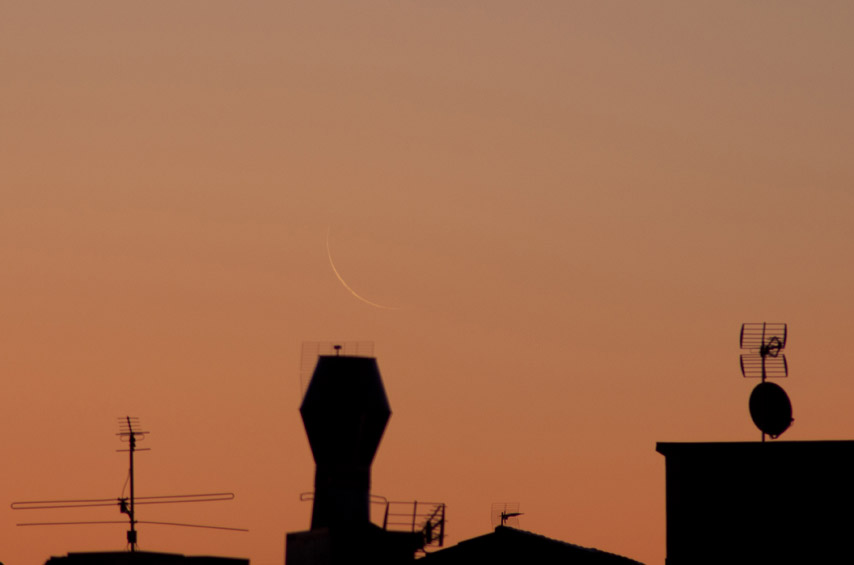 image by Oriol Rigat, Barcelona, Spain

In many lands there are traditional tales of the origin of the Moon - often it was banished to the night sky after losing a battle with the Sun. But here Oriol has captured the true story. The infant Moon has just been released by the hatchery, and nearby radars track its movement toward orbit. Because the hatchery is in Spain and the slim Moon moves westward over the ocean it is fully in orbit by the time it becomes visible in the Americas and no one has suspected its terrestrial origin. Over the next two weeks it grows until it dominates the night sky. But deterioration is already at work. Age spots develop progressively on its surface until they darken nearly 30% after two weeks. As they metastasize they start on the eastern limb and progressively consume the aging Moon until nothing is left. As it grows smaller, as if ashamed, it becomes less conveniently observable as it withers away. When it finally dissolves into nothingness another hatchling Moon has nearly finished its 28 day gestation period and after a dark night or so of mourning the cycle repeats. Rarely the hatchery releases a Moon early so that two full Moons occur in 30 days, but that only happens once in a blue moon.

Chuck Wood

Technical Details
2011.11.24 a les 06:20 UT. Canon 50D 300mm iso100 f8 0,5s

Related Links
Oriol's astro astro and pix of day websites.


Yesterday's LPOD: Casual Discoveries
Tomorrow's LPOD: Google Moon
---
---
COMMENTS?
Register, Log in, and join in the comments.
---