April 15, 2021
From LPOD
Why the Bend?
Originally published August 27, 2011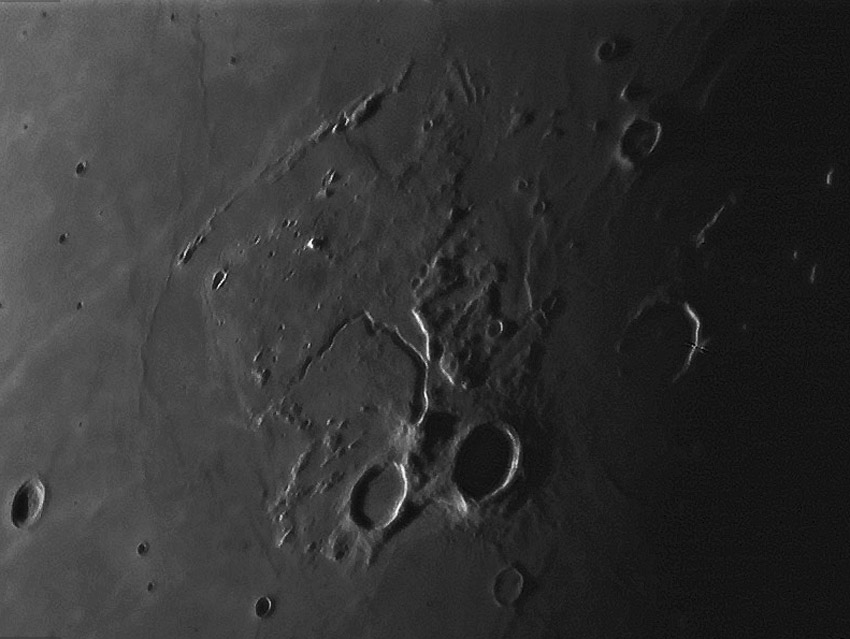 image by Alexander Zaitsev, Lipetsk, Russia

I always think of the Aristarchus Plateau as a parallelogram. It has generally straight western and northern edges, and even the segment between Aristarchus and Herodotus is straight. But Alexander's fine sunset image reveals that the eastern edge is strongly serrated, with a series of nearly straight incisions into the plateau. These fault-like boundaries parallel the northeast-southwest trend of the northern and southern boundaries, and of the Agricola Mountain ridge to the north. This parallelism does imply that all these edges are fault controlled, responding to some regional force. The edges are roughly radial to an area in the northern part of Imbrium, implying some hazy relationship to that basin. More interesting at this moment is that the northernmost serration (with two craters at tis western end) is approximately aligned with the part of Schröters Valley that abruptly bends westward. Alexander's image shows that a terrain boundary connects the serration and the rille, with the north side being slightly higher and rougher than the smooth south side. Perhaps the bend in the rille occurred because the flowing lava that was building the channel was deflected westward by a small elevation difference that was the continuation of the offset seen to the right. The bend is there because of tectonics rather than just the downslope flow of lava.

Chuck Wood

Technical Details
25.08.2011. Telescope SW 305/1500 + Camera VAC-135 (b/w 15 fps) with the red filter and barlow 2.5X.

Related Links
Rükl plate 18


Yesterday's LPOD: Swirls Without Walls
Tomorrow's LPOD: Old Data, New Ideas
---
---
COMMENTS?
Register, Log in, and join in the comments.
---