Difference between revisions of "September 16, 2010"
Line 9:
Line 9:
 

<em>[mailto:tychocrater@yahoo.com Chuck Wood]</em><br />

 

<em>[mailto:tychocrater@yahoo.com Chuck Wood]</em><br />

 

<br />

 

<br />

 
+
 
+
 

<hr />

 

<hr />

−

<div>You can support LPOD when you buy any book from Amazon thru [http://www.lpod.org/?page_id=591 LPOD!]<br />

+

/

−

</div>

 
−

----

 
−

===COMMENTS?===

 
−

Register, and click on the <b>Discussion</b> tab at the top of the page.

 
---
Revision as of 11:39, 7 February 2015
Saturday's Moon Maddness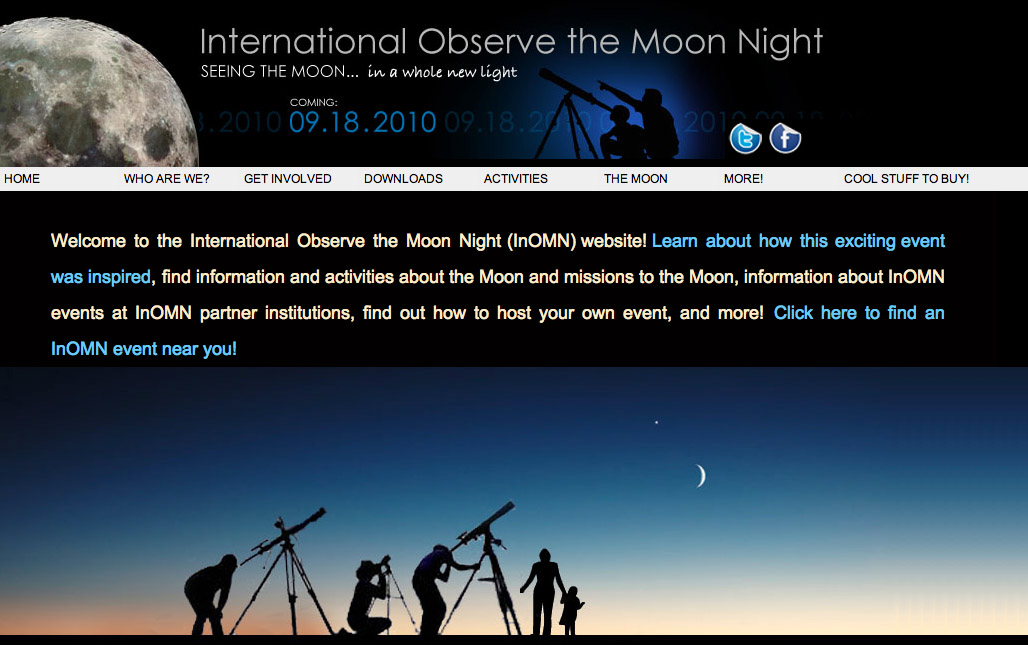 image from InOMN website; why are none of the telescopes pointed at the Moon?

Two nights from now more than 400 events will be held worldwide to interest the public in our friend the Moon. The education teams supporting the Lunar Reconnaissance Orbiter and LCROSS missions have organized the International Observe the Moon Night (InOMN) for September 18. Various NASA centers are hosting events but so are many other smaller groups who simply want to share their telescopic views of the Moon with any one willing to step up to the eyepiece. I think there are three ways LPOD viewers can help in this worthwhile effort to inform and engage folks in science by using the magic of the Moon. First, because LPOD viewers probably understand more about the Moon and know their way round it better than almost all of the people hosting InOMN parties you should consider volunteering at one of the scheduled events. See the Google map pin-pointing the locations of events to find one near you. Second, if you are a fast worker you can host an event and get the word to the local TV, radio and newspaper outlets. An event can be as simple as having a few folks bring their telescopes to a mall parking lot or a park to casually share the Moon with anyone who shows up. Third, there is a Moon photography competition, that virtually any contributor to LPOD could win! It is to all of our benefits to excite the public with science. And it is fun to have more folks to share our lunar obsessions!

Chuck Wood


Yesterday's LPOD: Bridge Near Bullialdus
Tomorrow's LPOD: The Only Pathologist On the Moon
---
---
COMMENTS?
Register, Log in, and join in the comments.
---