Difference between revisions of "December 30, 2019"
---
Latest revision as of 02:04, 30 December 2019
Ridges On a Limb
Originally published July 18, 2010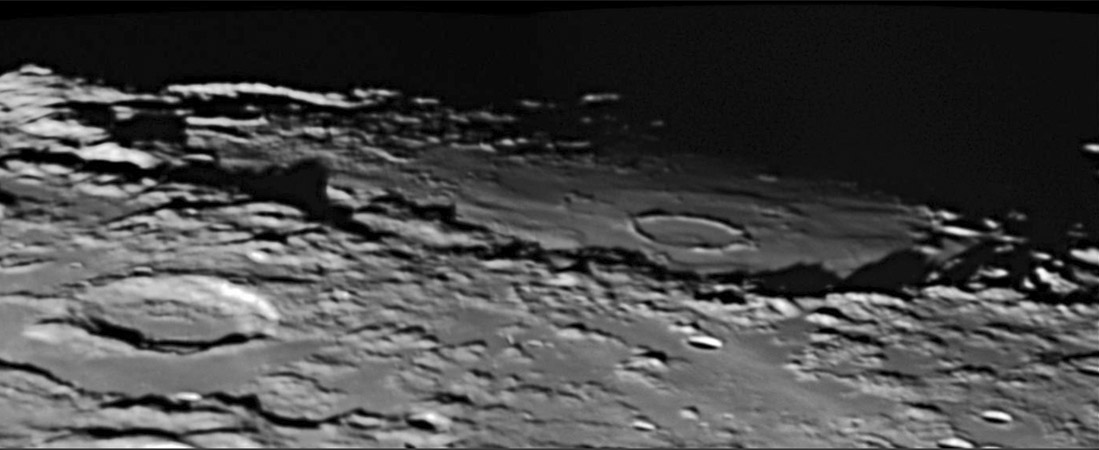 image by Efrain Morales Rivera, Aguadilla, Puerto Rico

When I first saw this image on the LPOD Photo Gallery I thought it was a sunset vieW of the Mare Smythii, but its not. I've never seen this region with this lighting - it is a revelation. This is the eastern limb, but a different basin, Humboltianum. The curved shadow-casting range is an inner basin rim I have called the Bishop Mountains. And just a piece of the Andes Mountains, again my informal name for the main rim of Humboldianum, is visible at bottom left, with the crater Endymion B nearby. We have had wonderful images of this area before, but this grazing Sun view shows nearly unknown detail on the mare that was invisible even on a recent LRO image. As is often true with low Sun views of maria, otherwise unseen low ridges become apparent. Use the crater on the maria as a reference. To its north (left) are two illuminated edges of mare ridges, another ridge is beyond the crater, and a fourth is to its south, near the center right of the image. These ridges are visible on an LRO altimetry image of the basin, but are not shown as clearly as here; they presumably relate to readjustments to the mare as it subsided or cooled. Efrain's image also confirms that the odd rilles on the floor of the crater have raised edges, making them puckered rilles. This image is evidence that a good photo with low lighting can still reveal features that are poorly known, or even unknown.

Chuck Wood

Technical Details
March 31, 2010, 4:26 UT. LX200ACF 12" + DMK21AF04 CCD camera + Powermate 2.5X barlow + Baader uv/ir filter

Related Links
Rükl plate 7
Efrain's Jaicoa Observatory


Yesterday's LPOD: A Simpler Moon
Tomorrow's LPOD: A Burning Issue
---
---
COMMENTS?
Register, Log in, and join in the comments.
---