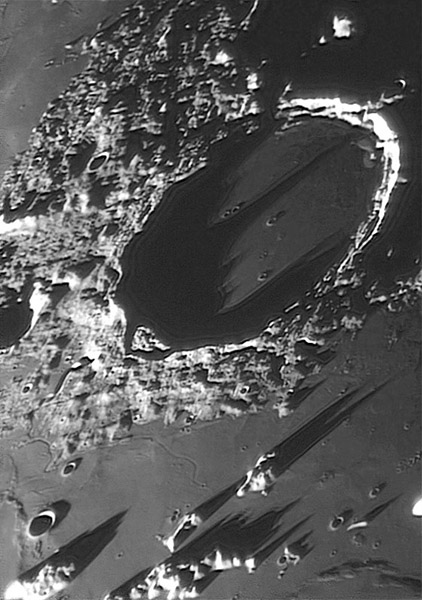 image by WES HIGGINS
Speechless. That is the first reaction to this image. It is like an exaggerated science fiction drawing from the 1950s with impossibly long and thin shadows. But no, it is real, just the latest from beyond-master lunar imager Wes Higgins. The floor of Plato holds its now familiar four large pits and the swells near the eastern (right) wall, but the eastern third of the floor exhibits a subtle roughness that I have never seen before. But what is truly staggering is the rille that starts in the ejecta west (left) of Plato and cuts its way downslope out onto Mare Imbrium. The rille is shown on Lunar Obiter IV images just to where it enters Imbrium and then it disappears. But on Wes' image the rille skirts a small crater (Plato X on USGS Lunar Chart LAC 12 and strikes out across the mare heading to the gap between two outlying hills of the Teneriffe Mountains. I have not found any map or image that shows this rille beyond the Plato X. One hundred fifty years ago such a discovery as this would lead to claims of changes on the Moon. But based on all existing evidence we think that that lunar volcanism has been dead for at least a billion years so its unlikely a new rille formed in the last few years. I finally did find an image by Paolo Lazzarotti that shows bits of this rille. What this image illustrates is that extremely high quality amateur imaging can detect features not seen on existing spacecraft imaging of the Moon. The Moon isn't changing, our knowledge of it is just improving.

Technical Details:
11/05/04 at 11:35 UT, 18″ Starmaster, DMK-21F04 camera, 30fps, stack of 1000 frames.
Related Links:
Rükl chart 3
Wes's website
Yesterday's LPOD: New Color in Old Pictures
Tomorrow's LPOD: Unequal Twins
---
COMMENTS?
Register, Log in, and join in the comments.
---