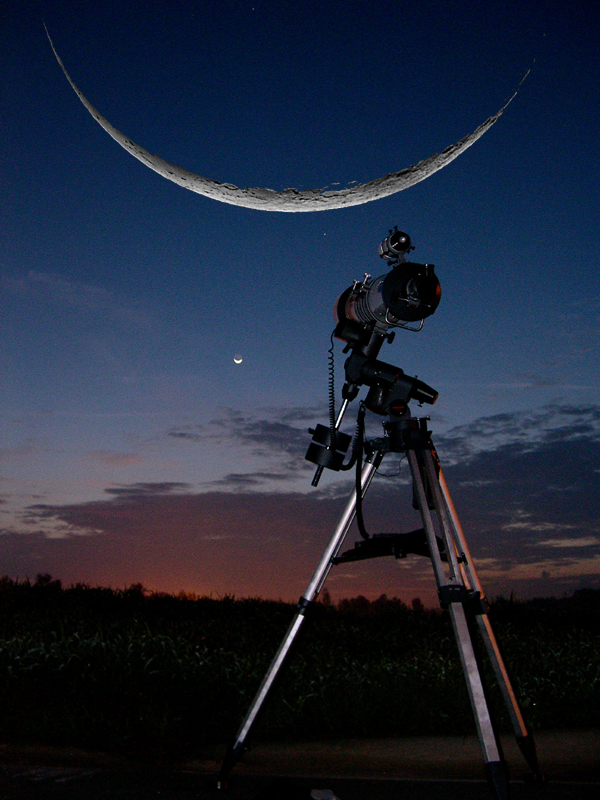 image by Howard Eskildsen
Sometimes it seems inevitable that human evolution will be accelerated, with engineered sensors and silicon brains replacing the limited capability ones we come with. But will the creatures/things created by the cyborgization of humanity be able to appreciate the glory of a sunrise with a crescent Moon hanging in the sky? Will the idea of putting an eye to an eyepiece excite them with anticipation? I hope so. Beauty and love are characteristics of humanity, and this wondrous image captures the beauty of our world and beyond, and the love of closely observing it. What's the value of a Moon if you don't observe it?
We return to our normal LPOD program tomorrow!
Technical Details:
Howard writes: I took this photo Thursday morning, Sept 1, 2005, of the 27-day crescent moon. After I finished photographing the moon, I couldn't help noticing how striking the telescope was against the morning twilight, so I had to take a photo of it. Wasn't easy. Had to force flash and steady the camera on the lens case to get the 1/2 second exposure steady. Only two out of 8 turned out. Then I got a hare-brained idea and added the telescopic view to the photo of the telescope.
Related Links:
The Singularity is Near
Yesterday's LPOD: Jagged Jura
Tomorrow's LPOD: Apollo 17 - An Alternate Reality
---
COMMENTS?
Register, Log in, and join in the comments.
---