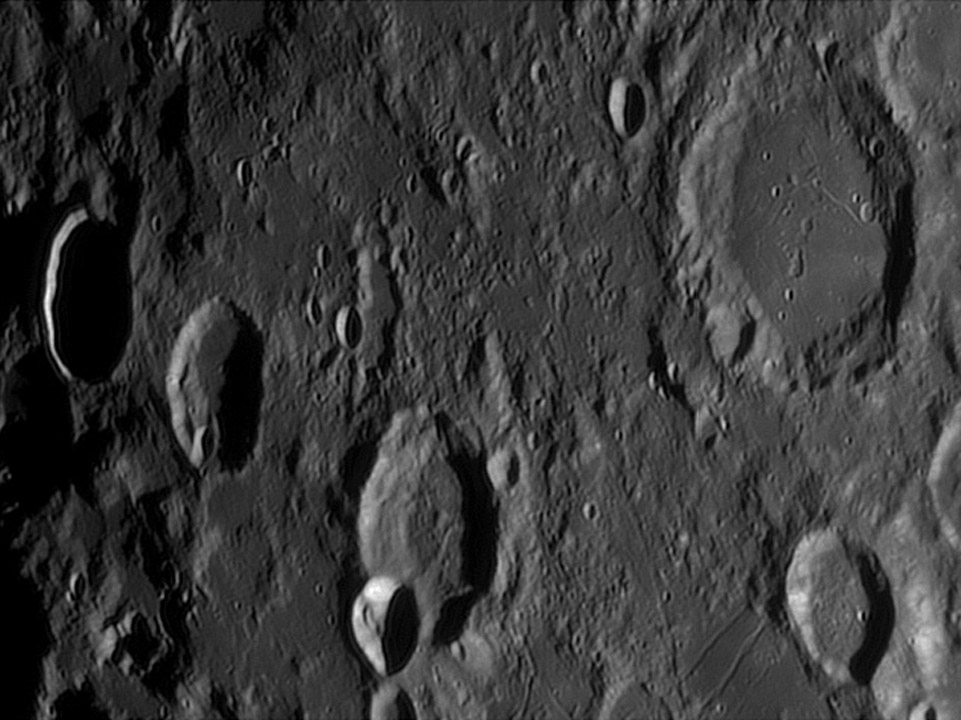 image by Oliver Pettenpaul
Mare Humorum and Orientale are such compelling targets that the region between is often overlooked. Oliver has resisted that urge and captured a wonderful image of this complex area. The jumbled texture between the craters is ejecta from the formation of various basins, with that from the Humorum Basin being buried by debris from Imbrium and then Orientale. Some of the isolated mountain masses are probably segments of the basin's rings. At bottom right is a pond of lava captured between the Humorum mare-edge ring (diameter 425 km according to Paul Spudis) and the next one out. This mare patch is cut by linear rilles whose directions seem unrelated to Humorum basin structure. One rille peters out in the basin debris between Mersenius (top-right) and Cavendish (bottom-center). The nearly twin craters once named for the 19th century Henry brothers are at far left. The main focus of attention though is Mersenius, whose floor is rarely imaged so clearly. The rilles have an odd distribution, being mainly on the western half of the floor - I wonder why?
Technical Details
2007-12-21 22:16 UT. 9.25″ Celestron XLT + Televue 2.5X Powermate + Astronomik Red type II filter + DMK21AF04.AS @60fps, 632 frames used, 12 point auto MAP processing.
Related Links:
Rükl plate 51
Oliver's website
Yesterday's LPOD: Inconspicuous Volcanics
Tomorrow's LPOD: Crystal Skyring
---
COMMENTS?
Register, Log in, and join in the comments.
---