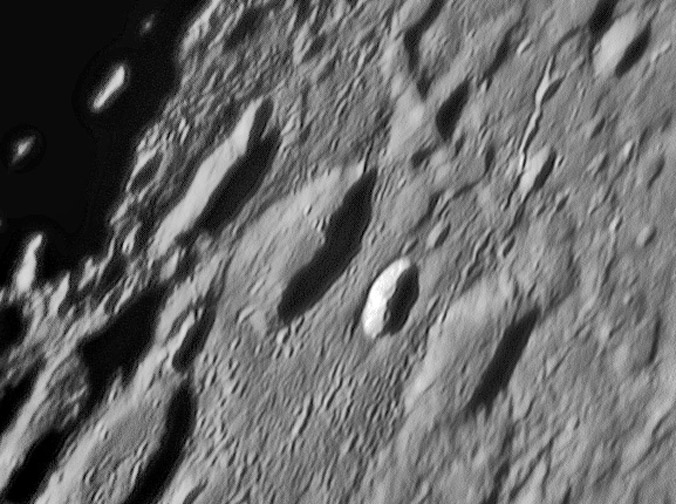 image from Colin Evans, Swansea, UK
On December 2, 1963 I observed this area with a friend's 12″ telescope and discovered two rilles that apparently had not been previously known. My observational report was published in the BAA Lunar Section periodical, The Moon vol 12, #3 in 1964. This image brings back wonderful memories of my ancient observation and the joy of first seeing my name in print. The bright crater in the center is Adams B, with Adams being the dull crater to its left, and the similar dull crater to the right is Hase D. There are actually three quasi-linear structures here - first is the alignment of crater floors running diagonally across the top of the image. This is the end of the Snellius Valley, a basin secondary crater chain radial to the Nectaris basin. Starting on the upper left side of Hase D and cutting the Snellius Valley at a steep angle is the first valley I discovered. In my 1964 report I stated that the rille, which tends NS, varies in width from 1.7 km at an elongated bulge near the south end to 1.2 km where, surprisingly the older looking rille interrupts it….The rille is "new" looking and very deep, being almost completely enshadowed at the time of observation…I assume now that this is actually a secondary crater chain from Petavius, but it isn't completely radial. The second rille I saw in 1963 is very difficult to distinguish in the lighting of this image. The rille starts at the small crater on the north rim of Hase D and extends towards the top on the image, between the Snellius Valley and the rille just described. I was surprised to see in Rükl's Atlas of the Moon that this feature now has a name: Hase Rille. In my 1964 report I stated, The rille, which strikes SSw from Hase D is about 3.9 km wide, shallow and suspected of having a convex floor. I just checked the Lunar Orbiter IV image which does indeed hint that part of the floor is convex! What an observation!
Technical Details:
Skywatcher 200mm Newtonian using a B/W toucam. South is up in this image to match my sketch of 43 years ago. I thank Colin Evans who took this image!
Related Links:
Rükl page 69
Good Orbiter view
Yesterday's LPOD: Gravity Eyes
Tomorrow's LPOD: Where's Clavius?
---
COMMENTS?
Register, Log in, and join in the comments.
---