October 4, 2019
A New Rille?
Originally published May 23, 2010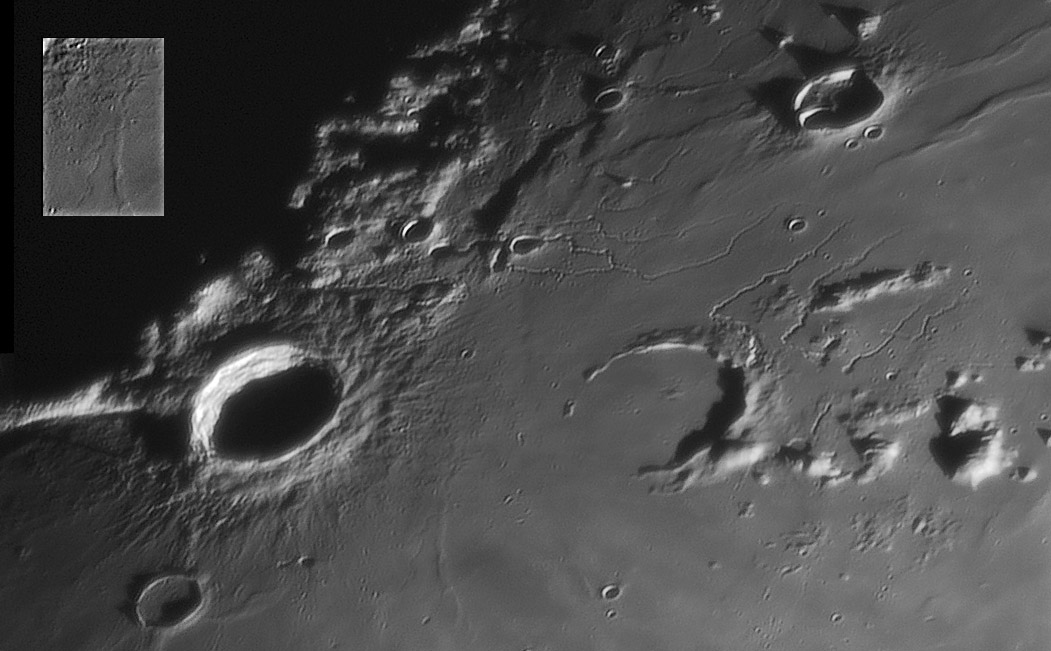 image by Nick Smith, Oxford, England

There are so many rilles on the east side of the Aristarchus Plateau that another shouldn't matter. But I am excited to detect one that I don't remember seeing before. Nick's image has such smooth tonality and high resolution that I enhanced the contrast and out popped a short sinuous rille segment. I extracted an enhanced snippet of it - upper right; can you see where in the image it came from? The rille is similar to others visible except it is narrower, shallower and hence harder to see. The north end disappears in a clump of small secondary craters from Aristarchus, and the southern end just seems to stop. I searched thru past LPODs - typically the best telescopic images in existence - and found that it is just visible (but uncommented upon) in an earlier scene, and it is quite well seen in an USGS processed Lunar Orbiter IV image. I have not spotted this rille on any traditional lunar map, but eagle-eyed John Guest and John Murray included it on their Orbiter based chart of 1976.

Chuck Wood
Note: Thanks for the telescopic images submitted recently - keep them coming!

Technical Details
Jan 2010, taken around 21:35 UT. C14 + Red filter + Lumenera Infinity 2-1M camera

Related Links
Rükl plate 18
Original image


Yesterday's LPOD: Sequencing History
Tomorrow's LPOD: Schmidt's Moon
---
---
COMMENTS?
Register, Log in, and join in the comments.
---