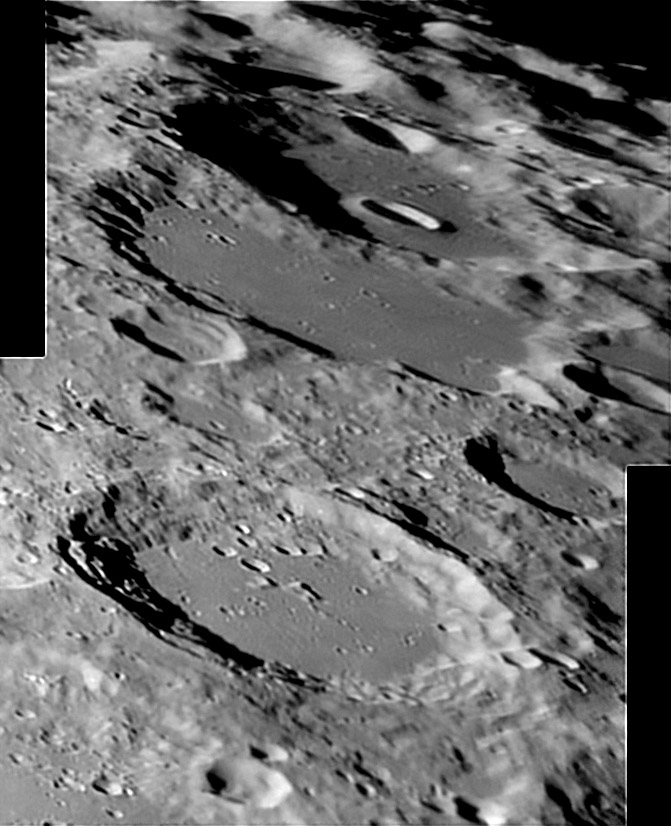 image by Mike Salway, Australia; south up
Finding your way toward either pole is sometimes a little tricky because of craters that look similar. North and west of the lunar south pole are two very distinctive craters that I use to check bearings. Klaproth (diameter 119 km) and slightly smaller (111 km) Casatus are easy to identify because they have broad flat floors and they slightly overlap. Casatus has a small bright crater on its interior, Casatus C, and "J" is an older one, but bright in this light, cutting the southern rim. The foreground crater is Blancanus, whose eastern floor and rim are dappled with a line of small secondary craters that point toward the bottom right toward Moretus. The mountains near the bottom of the frame look bold because of the low lighting, but also because some are parts of the rim of the farside South Pole - Aitken Basin.
Chuck Wood
Technical Details:
Sept. 23, 2007, 09:15 UT. 12″ newtonian on EQ6c+ DMK21AF04 + 5x powermate + Astronomik R filter; 300 frames stacked across 15 alignment points; 2 image mosaic.
Related Links:
Rükl plate 72
Mike's website
Klaproth redoux
Yesterday's LPOD: Shining Light on the Alps
Tomorrow's LPOD: Mirageful Moonset
---
COMMENTS?
Register, Log in, and join in the comments.
---