August 21, 2020
From LPOD
Swedish Moonlight
Originally published March 10, 2011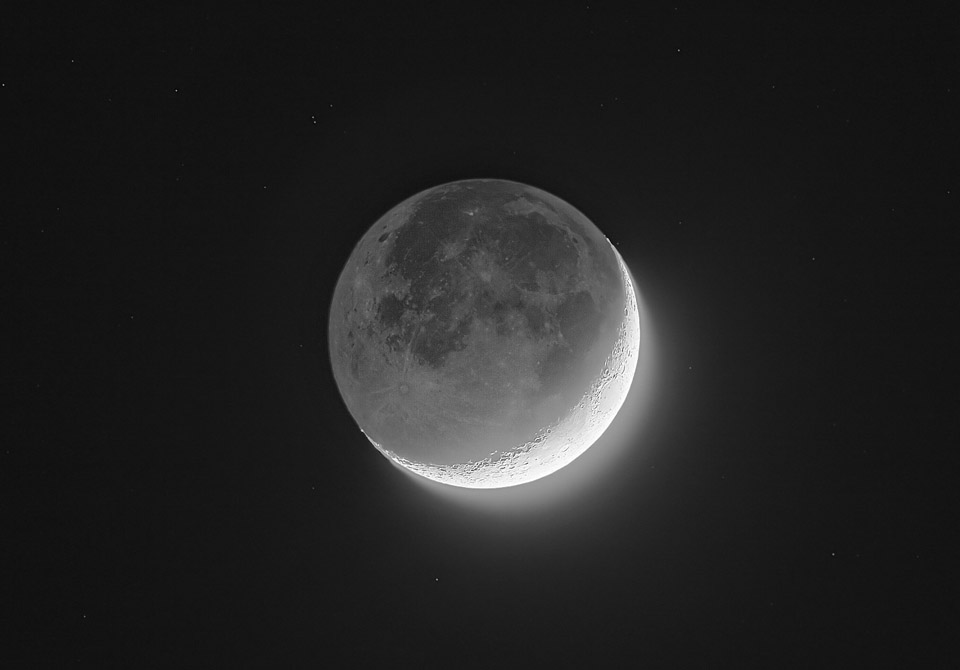 image by Peter Rosén, Stockholm, Sweden

Peter writes: Things do not always turn out the way we plan. I had in mind some high definition views of Mare Crisium, Langrenus and Petavius but because of the extreme turbulence, I ended up with a widefield view of the moon on a starry background instead and a beautiful earthshine, revealing all the features usually only seen on the full moon.

I arrived at the Lunar & Planetary Science Conference in Houston this afternoon and meet Maurice Collins, Tony Cook and Bob McDonnel, all LPODites! The Kaguya Atlas book is for sale and I autographed a few that were bought. I had ordered one from Amazon on Saturday just to find out when they are actually shipping and it was shipped on Monday, so the book really seems to be out. Hopefully news from LPSC tomorrow!

Chuck Wood

Technical Details
2011 Mar 08, 18:25 to 18:34 UT. Canon Eos 5DMkII in prime focus on a William Optics FLT110 f/6.5. Multiple exposures from 1/200" @ Iso 200 to 4" @ 1600 Iso, representing a span of 11.5 steps, combined in Photoshop CS4.


Yesterday's LPOD: Dome Closeup
Tomorrow's LPOD: From LPOD To the Big Time
---
---
COMMENTS?
Register, Log in, and join in the comments.
---