January 26, 2008
Dome Students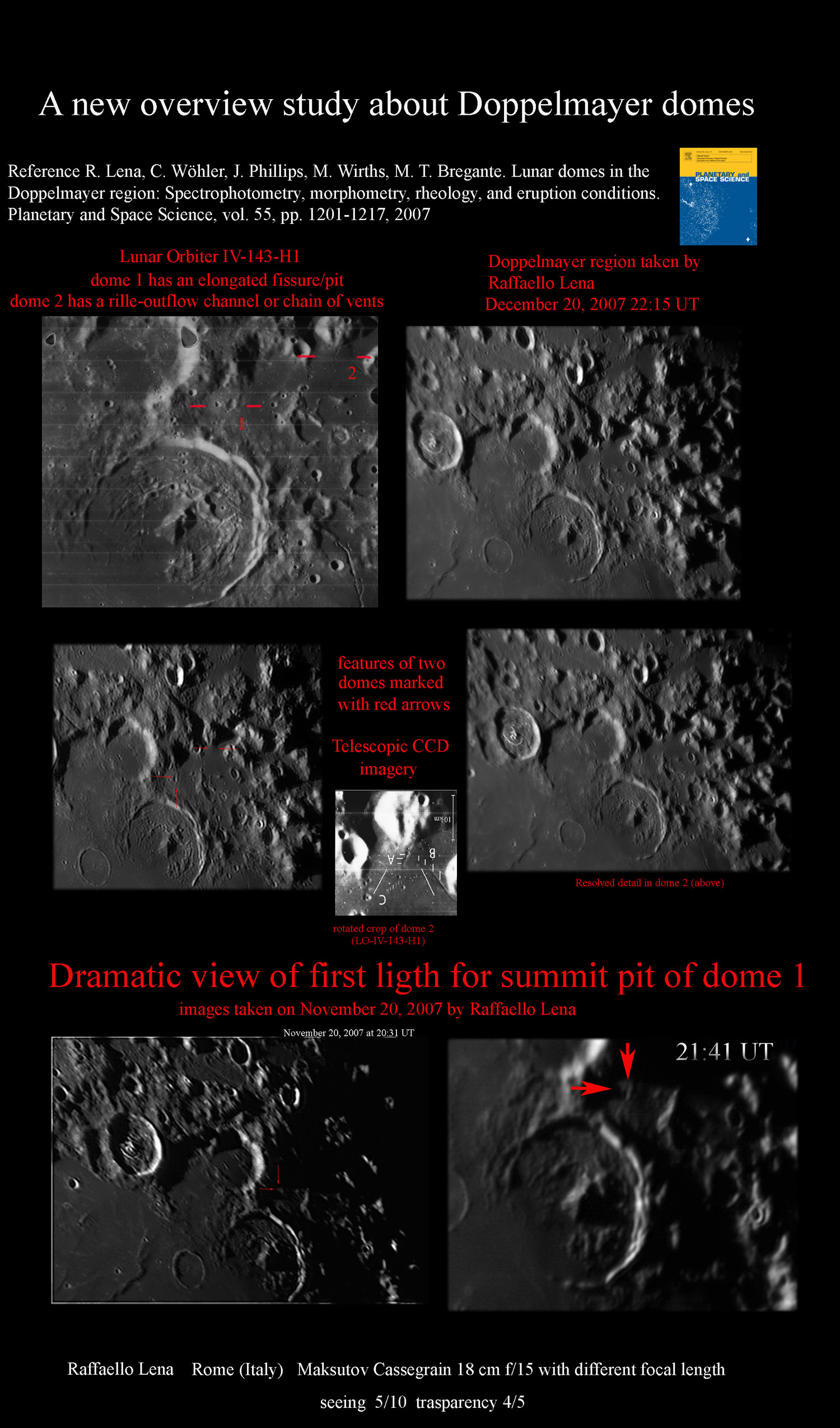 image by GLR

The GLR is a group of dedicated amateurs interested in the study of Lunar Orbiter image the dome appears to have a smooth surface with an out flow channel or chain of vents and linear rilles. An estimation of the dimensions of the feeder dikes suggest that their source regions were located below the lunar crust. In a new and recent image it is possible see the resolved domes in Doppelmayer (see attachment) and the summit elongated fissure for dome 1 but also the central elusive rille for dome 2. It is compared with Lunar Orbiter frame.

Image and commentary submitted by Raffaello Lena

Technical Details

Photos taken by Raffaello Lena (GLR group) with a Maksutov Cassegrain 18 cm f/15 and Lumenera LU 075 M - Rome (Italy). Additional details on image.
Related Links

Rükl plate 52
R. Lena, C. Wöhler, J. Phillips, M. Wirths, M. T. Bregante. Lunar domes in the Doppelmayer region: Spectrophotometry, morphometry, rheology, and eruption conditions. Planetary and Space Science, vol. 55, pp. 1201-1217, 2007. This paper also available as a PDF download (1.3 MB)
Selenology Today a free on-line magazine of lunar studies published by the GLR
Earlier LPOD: Doppelmayer Surprises
Yesterday's LPOD: Sky Painting
Tomorrow's LPOD: Galileo's Moon?
---
COMMENTS?
Register, Log in, and join in the comments.
---